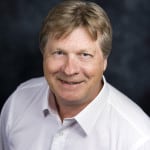 I'm Larry Holt, a Graphic Designer with for over 25 years experience in SketchPad, my graphic design business, helping individuals, businesses and organizations in Ventura County and Southern California with their marketing needs.
I'm a veteran with six years in the U.S. Army where I learned topographic map making with the Corp of Engineers at Ford Island in Hawaii. My four years of drafting classes in high school led me to a construction draftsman position with the Corp of Engineers at Fort Benning, GA and an electronic draftsman with the Signal Corp at Schofield Barracks in Hawaii.
Upon leaving the service I became a mechanical draftsman with Peobody Galion and then a technical writer with Galion Manufacturing in Galion, Ohio. I later moved to Southern California where I worked with Haynes Publications as a consumer auto repair manual writer. In seeing the writing on the wall for the future of computers, I got a job with Vector Graphic writing computer hardware repair manuals which led me to starting the publications department with Alpharel, a small start-up computer document capture company.
I left Alpharel and started my own company, SketchPad Graphic Design, over 25 years ago. Over the next few days I will be updating this website to include many portfolios of my work.
Thank you for stopping by…